Diary of a Renovation: Parnell Apartment
Many of the jobs we do are renovating villas and bungalows. We are passionate about restoring these grande dames to their former glory and adapting them to our modern lifestyles.
We chose the name Characterise Renovations rather than Character Renovations for two reasons. Firstly we wanted to extend beyond the typical bungalow and villas (much as we love them) and importantly the "ise" at the end puts the I into Character - making it about yourself, putting some of you into your home.
We are really excited and priveleged to be working on a circa 1950's Parnell apartment, one of 11 units in the building. It is the penthouse apartment and includes a roof top room and outdoor area.
The owners are reconfiguring the space and modernising it. We think the result is going to be stunning!
But this page is all about the diary. What happens from start to finish. Come and join me on the journey!
Phase 1 Access: How do we attack this project?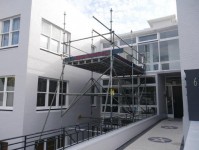 Most of our projects are single level - we are often adding a basement or a second storey but generally we start at ground level. An apartment renovation, two storeys off street level and several storeys above the actual ground was going to provide some challenges. Add some gnarly corners and shared commonways...
Phase 2 Demolition: Not for the faint hearted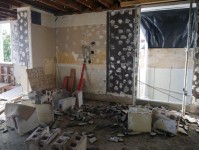 Often families live in the home during most, if not all of the renovation. We may rig up a temporary kitchen in a spare room so they can get by and save the expense of renting elsewhere. However as you will see, this was not possible in the apartment.
Phase 3 Reconstruction: This could take awhile...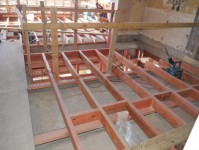 Once the dust has settled and we are left with a 'blank canvas' its time to start putting things back together again. Time for some Characterise Renovations precision to make sure everything lines up