Mt Eden Villa: Maddox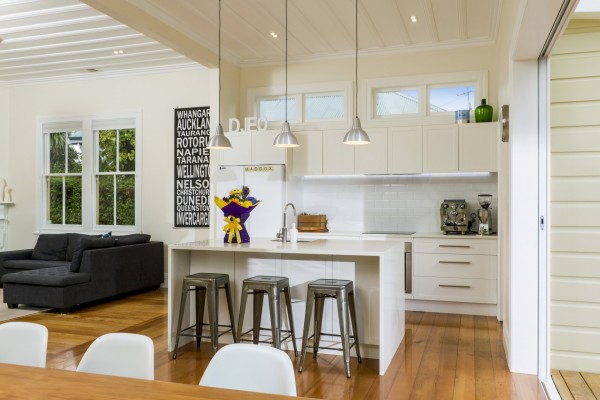 ---
Jane & Dane, along with their gorgeous daughters were ready to modernise the rear of their 1900's villa. They were looking for a warmer, lighter open plan living solution that connected with the outdoors, something they particularly wanted with a young family. Being able to work in the kitchen and supervise play in either the kitchen or deck / backyard was important to Jane. They also wanted to get full use of their deck so wanted an option that provided some shelter from the rain but still allowed light to flow into the home.
---
---
Jane & Dane contacted Characterise Renovations through their website and began their renovation journey. After meeting with Jane & Dane at their home and discussing the project in detail, Characterise introduced one of their recommended architects who came up with concept drawings that met the brief. Characterise then performed a high level budget review to ensure the brief and the clients budget were in sync. Once confirmed, the plans were finalised and then working drawings submitted to council for building consent.
---
Frank and Joe were assigned to the job and worked continuously on the project until it was complete. We think the finished product looks amazing but look at the before and after photos below to see how Jane & Dane's home has truly been transformed!
Wow! This villa used to have steps down to the back lawn, with no sheltered area to sit and enjoy the backyard. The deck now provides a great link to the backyard, and the roof over the deck provides all year round use for this area, effectively adding another room to the house.
The villa previously had a cottage style kitchen, while an older style and in keeping with a villa, it was not to Jane & Dane's taste and lifestyle. They have not only added a beautiful new kitchen and scullery but changed the whole feel of the house by opening up to the backyard and now can easily watch their growing girls play!
Is this really the same room? Jane & Dane retained the original fireplace but gave it a breath of new life by painting it. Amazing how new wall linings and paint can rejuvenate a room - not to mention make it warmer!