Steve & Viviene Jones loved living in their turn of the century villa in Howick, but were wanting to create some separation between their living spaces and private spaces. In particular the bathroom opening off the kitchen was not ideal and the kitchen itself was in the traditional place of a villa - in the lean-to, which left it feeling even smaller with the lowered ceilings. The house needed a redesign and expansion of the existing footprint.
---
Having contacted Characterise Renovations through the website, Steve & Viviene had an Ideas to Action consultation with Terry. Ideas were exchanged and the project was conceptually scoped. Darren McCutchan was recommended by Characterise Renovations to prepare concept drawings. High level budgets were then prepared to ensure the concept and budget were in sync. Detailed drawings were prepared, the price confirmed, the building consent lodged and then the team from Characterise were on site. Frank, Justin and Joe were assigned to the job and worked on it through the winter of 2013. Steve & Vivien moved out of the house for the duration of the project as the entire existing house was being renovation, along with an addition. Design wise Steve & Viviene made some bold choices that paid off - aluminium joinery was installed throughout the addition, and new dark timber floors laid. The modern kitchen and scullery opens out onto a covered entertaining area complete with gas fire.
---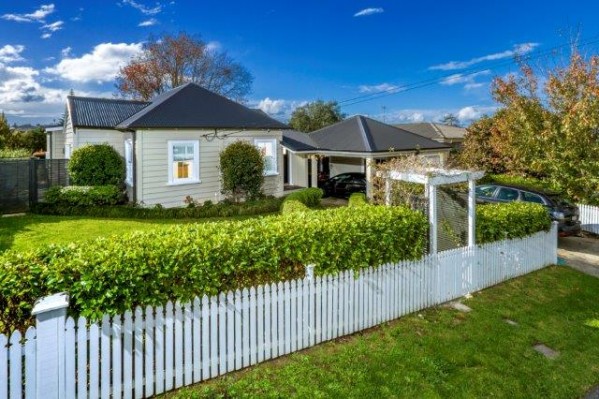 It is now a house of surprises - an attractive traditional villa greats you at the roadside. Stepping through the front door you are transported to beautiful, modern and comfortable living suited for today's lifestyle.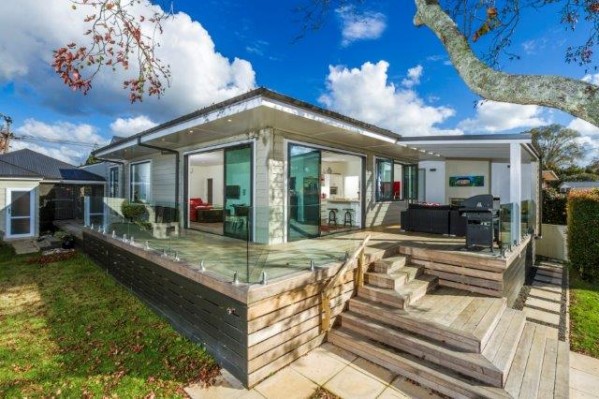 ---
Living in the house now Steve says, "Having two bathrooms has made a huge difference, and we love now having a bath and enormous shower. Having friends and family to stay is so much easier with the bedrooms now feeling private. The flow from the house onto a deck at the same level and the open plan massive space created has changed the way we live. The outdoor living has doubled our space and we now have total privacy when outdoors sitting around the fire on our outdoor couch"
Take a look below at some before and after shots of Jone's living areas and bathroom to see how their home and lives have been transformed.
The original house was much smaller, and the bathroom opened directly off the lounge which was not ideal for the owners. They are now enjoying not only much larger living areas but a great connection and flow to their outdoor areas.
Not to mention, the updated bathroom!