Phase 2 Demolition: Not for the faint hearted
Often families live in the home during most, if not all of the renovation. We may rig up a temporary kitchen in a spare room so they can get by and save the expense of renting elsewhere. However as you will see, this was not possible in the apartment.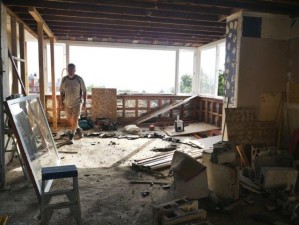 Open plan living at its finest! This was the second storey rumpus room, used by the family to relax and enjoy the inner city views. Now it is a work in progress - stripped!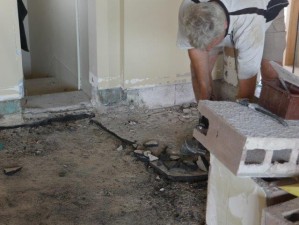 Our team at Characterise Renovations work hard! This was unusual - bitumen is most commonly found on roads, however this second storey was added on later in the life of the apartment. Hence the floor of the second storey used to the roof of the building - that is why bitumen was there. We don't want it there any longer, so Frank is working hard to chip it up, piece by piece!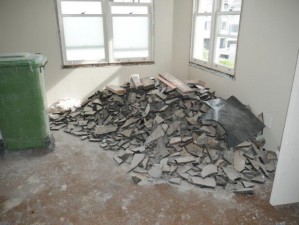 Its final resting place. Well almost. Remember those narrow stairs - the bitumen has been carted down those to the first level. From here it will be placed in wheelie bins and taken to the dump once a week - nowhere to house a kerbside bin in this apartment renovation!