Exceptional residential villa renovations in Central Auckland - including Mt Eden, Ponsonby, Remuera and Grey Lynn
Whether you want to increase the value of your villa and bring it up to date, or improve the flow, feel and connection of spaces in your home renovation, Characterise Renovations is here to assist. Does the thought of renovating a villa or starting a bungalow renovation feel daunting or overwhelming?
Experience first-hand the Characterise Renovations difference
If you are scared of 'renovation cowboys' or being stuck with a leaking home - Characterise Renovations employs trustworthy and qualified home renovation builders who measure themselves on high quality workmanship and close attention to detail.
Characterise Renovations understand how to make the most of large feature rooms and preserve special character features that showcases beautiful details. Characterise Renovations is also well versed in putting in basements and garages, and reconfiguring villas to create seamless indoor to outdoor flow.
Villa renovation consultation
If you are ready to renovate your villa and have made contact with Characterise Renovations, you can schedule a dedicated villa renovation consultation. This will provide you with everything you need to get started. Meeting at your villa Characterise Renovations will:
Discuss your ideas – Characterise Renovations is here to listen to your requirements and deliver on your expectations
Identify hidden opportunities – in case there's something you hadn't considered our Characterise Renovations experts will look through your home and advise you of ideas you may have missed
Review any concepts or sketches you may have – Characterise Renovations want to understand your vision clearly and sketches help us visually
Ensure your ideas and budget are in alignment – Characterise Renovations can make suggestions to bridge the gap, including a range of cost effective options
Give expert advice – as industry professionals Characterise Renovations are here to guide you through any areas you are unsure about and here to answer all your questions
Work out the next step for you
Being prepared for your villa renovation consultation
To make the most of Characterise Renovations' valuable service we suggest you come to the meeting prepared. Being realistic and honest will serve you and your villa renovation in the long term!
Prioritise your villa renovation – list and separate your 'must haves' versus 'nice to haves'
Decide on the greatest impact – which single change about your villa renovation will have the biggest impact in your life? Is it a separate living room for your teenagers or creating a spacious open plan area everyone can enjoy?
Set a realistic villa renovation budget – go over your numbers and set a range you are comfortable spending. Having some parameters at the outset avoids spending money drawing plans that end up outside your budget
Timeframe – do you have a strict deadline you require your villa renovation to be completed by? Could you live in the house during renovation?
At the conclusion you can expect to leave with a clearer idea of what is possible for your villa renovation and what will work well for you. From here Characterise Renovations is happy to recommend architects to commence concept sketches to begin the exciting process of renovating your dream villa.
If you think you are ready to get your project underway then fill in the details for an Ideas to Action villa consultation and we will be in touch really soon!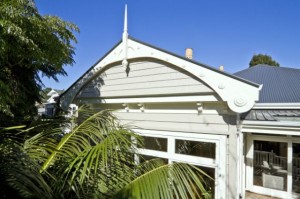 Below - this additional to the rear of the house also looks as though it has always been there. Note the detail in the barge board and intricate mouldings - these exactly match the original design at the front of the house. If you are looking for quality craftmanship you have come to the right place.